When you mention weekend getaways in New Mexico, most people think of Taos or Santa Fe. But if you drive about 3 hours south of Albuquerque or an hour and a half north from El Paso, Texas, you'll find the quaint mountain town of Cloudcroft. It was named the third Most Overlooked and Underrated Destination Spot by Fodors in 2002, offering both a classic Western mountain resort experience along with easy access to New Mexico's haunting desert landscape.
Located at an elevation of 8,600 feet in the Sacramento mountains, Cloudcroft was founded in the 1890s. What began as a logging town quickly transformed into a visitor's paradise thanks to the cool summer temperatures and the gorgeous mountain vistas. Known for its outdoor activities, visitors to Cloudcroft will find excellent hiking and skiing nearby. You'll find most of the town's restaurants and shopping on Burro Street, which on summer evenings is occasionally shut down for street dances.
Cloudcroft is a year round resort town with a casual atmosphere and something for everyone to enjoy during every season. Bring your hiking shoes, mountain bikes, cross country and downhill skis and be prepared to enjoy a great weekend outdoors.
Sunspot Highway
Head south from Cloudcroft on NM 130 and turn right onto Sunspot Highway. Follow the road for about 15 miles to the Sunspot Astronomy Visitors Center where you can take a tour of the facility, learn about astronomy and purchase a souvenir at the gift shop. After your stop head back to the main road and turn right onto Sacramento Canyon Road to the quaint mountain village of Timberon. There you can stop for coffee or lunch at Nonnie's Restaurant at the historic Timberon Lodge. From the restaurant, turn left on Merlin Drive which will become Sacramento River Drive after just two miles. Enjoy the scenery on along the trail and watch out for wildlife which could include Mule Deer, Black Bear, Elk and even the occasional Bobcat. After five miles you'll turn left onto County Road E013 and follow that for 10 miles until you reach NM-506. Turn left and in just three and a half miles you'll reach the unincorporated town of Piñon, NM. There's not much to the town beyond two baptists churches and a post office, but the high desert scrubland does have a desolate beauty.
From Piñon head north on state highway 24 and follow it for 18.5 miles and turn left on highway 521 where you'll find the Weed Store. No you won't be able to add to your stash there. It's just a general/convenience store with a fun name. So grab a coffee and refill your tank if necessary for the final leg of the drive back to Cloudcroft. If you happen to make the trip to the area in mid-July, plan on catching the Weed Bluegrass Festival, a tradition that's been happening in the town every year for the past 22 years.
From weed, get back on Highway 24 and head north for four miles until the road ends at Highway 130. Turn left and follow the road all the way back to Cloudcroft as you enjoy the 1,600 foot climb higher into the Sacramento mountains.
STAY HERE
The Lodge at Cloudcroft
First constructed in 1899, the original lodge burned down in 1909 but was rebuilt in 1911 and of course, has undergone a number of renovations since then. What hasn't changed is the classic exterior and much of the interior details. The Lodge has been host to many famous people including Pancho Villa, Judy Garland, and Clark Gable among others. Conrad Hilton got his start in the hotel business managing the Lodge in the 1930s. In addition to the vintage luxury of the rooms, the hotel also has an excellent spa, golf course and other amenities.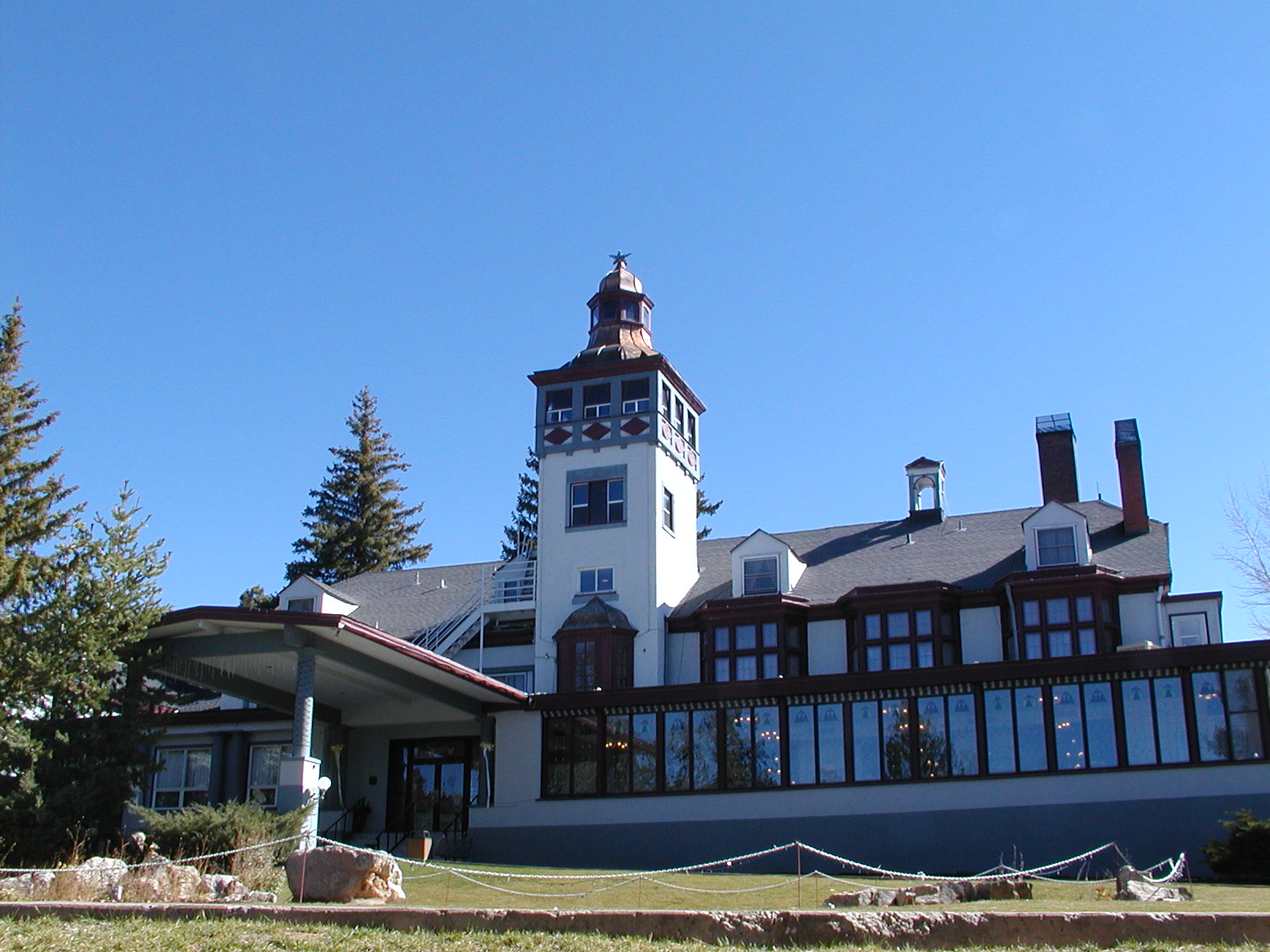 The Tiny House
This tiny house is exactly what you think it is, a 220 square foot, one room house that's perfect for a quick getaway to the mountains. The Tiny House is equipped with the basic essentials you will need – pots, pans, cooking utensils, coffee maker, and a sundry of other items. The owners provide one set of sheets, blanket and comforter, along with 2 bath towels and a wash cloth for your stay. It's just a short walk from downtown, so you can park your car for the entire weekend if you choose.
The Crofting Inn
The Crofting Inn is a beautiful home located in the Village of Cloudcroft, nestled among the spruce trees of the Lincoln National Forest. It's just four blocks from Burro Avenue. The Crofting Inn has seven guest rooms. Each with its own private bath and balcony. Guests enjoy a delicious gourmet breakfast every day prepared by the innkeeper, Gail.
EAT HERE
Western Cafe & Bar
304 Burro Ave, Cloudcroft
A classic western saloon that serves great burgers and drinks in a comfortable cowboy atmosphere. The ceiling is covered with hundreds of dollar bills each with a note from the person who left it. A must stop while you're in town.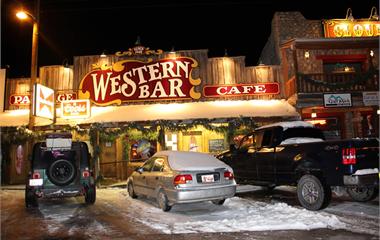 Big Daddy's Diner
1705 James Canyon Hwy 82, Cloudcroft
More than just a diner, Big Daddy's is a great place to get mesquite grilled chops, ribs, steaks and barbecue. If you go, be ready for some spice, because Greg and Darla know how to use green chilies to great culinary effect.
Mi Cabanita
505 Burro Avenue, Cloudcroft
We love family-owned and operated Mexican restaurants which is why we love Mi Cabanita. A classic taqueria that caters to locals and tourists alike. Whether you order burritos, tacos, empanadas and any other classic Mexican dishe, make sure you wash it down with their house-made horchata.
PLAY HERE
Osha Trail
Just north of the village of Cloudcroft, the Osha trail is 2.2 miles long. It begins and ends at US Highway 82, and is walking distance from downtown. It's a great beginning hike for people of all ages. You can also brings dogs along the well-maintained trail which follows along the ridge of the mountains in the Lincoln National Forest. Along the way, you'll spot an old train trestle bridge which is an area landmark.


Ski Cloudcroft
With a top elevation of 9,100 feet and 25 well-groomed trails, Ski Cloudcroft is a lovely, small ski area that has something for skiers of all abilities. During the off-season, the mountain serves as a great destination for hikers and mountain bikers. It's restaurant is famous for the wood-fired oven that produces some of the best pizza in New Mexico.
The Hubbard Museum of the American West
Located about an hour north of Cloudcroft in Ruidoso, this museum is a place where visitors can not only experience the West, but actually participate as one passes through various eras encompassing three area cultures – Native American, Hispanic and Pioneer. It is a living, exciting experience that has something for everyone. The Hubbard Museum of the American West provides an entertaining and educational look into our past and the spectacle of the American West as it was in pioneer days and before. While in town, you can also visit the historic Ruidoso Downs horse racing track and casino.